Investing is a timely business. Failure to keep up with financial news and current events may mean losing money. Thankfully, news apps allow investors to keep up with the latest breaking stories. But with so many to choose from, you may struggle to know which are the best. But not anymore. Here are the ten best apps to help keep you up to date on the latest breaking financial news.
CNBC Breaking Business News
First on our list is CNBC's Breaking Business News app. As you would expect from a business news app, it provides all the latest news relating to businesses, the markets, and other financial news, but it also has some other unique options. The app provides stock quotes in real-time as well as interactive charts. It also lets users stream full episodes of CNBC news shows.
Download for Android
Download for IOS
TheStreet
TheStreet began as a website, but now has an app for both iPhone and Android. TheStreet provides important financial news and information but goes a step further by having members of TheStreet team provide analysis, including opinions and commentaries. The app also includes TheStreet Ratings, which use the company's proprietary stock rating model. The app provides data through articles, charts, and videos, making it a more multimedia experience than many other financial apps.
Download for Android
Download for IOS
Bloomberg: The Business News
Bloomberg is the leader in providing financial news, and the app allows users to access many of the company's proprietary tools. The articles on the app are written by Bloomberg's award-winning journalists. One of the advantages of the Bloomberg app is that it allows users to filter the latest market data by sector or region. It also lets users track specific securities.
Download for Android
Download for IOS
The Wall Street Journal
The Wall Street Journal app is an extension of the Wall Street Journal. A digital subscription to The Wall Street Journal provides unlimited access to all Wall Street Journal content, including content on the company's website, app, and digital magazine. Though more expensive than some other options, The Wall Street Journal's reputation for reliable reporting makes this app worth the purchase. Users can customize their preferences in the app to receive notifications of the news they prefer.
Download for Android
Download for IOS
Fox Business
The Fox Business app provides breaking news and financial alerts. It also makes it easy for users to track stocks they're more interested in by allowing them to add stocks to a watchlist. Like the CNBC app, the Fox Business app also offers users access to many of Fox's business news shows as well as live Fox broadcasts.
Download for Android
Download for IOS
Barron's
Barron's news magazine is well known for its financial insights and analysis. Barron's app is another way for those interested to access the content produced by Barron's. Subscribers to Barron's can access articles from the company every weekend, financial analysis on weekdays, and commentary from Barron's online edition daily. A subscription to Barron's gives subscribers access to Baron's website and its app.
Download for Android
Download for IOS
MarketWatch
The MarketWatch app is a useful tool for keeping up with the latest market news and business updates. The app lets users track important financial data and receive alerts about breaking news updates. The app also lets users add stocks to a watchlist and helps users track stories with important information relating to their stock picks.
Download for Android
Download for IOS
SeekingAlpha
SeekingAlpha provides news and insights specifically for the financial industry. The SeekingAlpha app provides detailed information on a wide variety of both stocks and funds. Subscribers have the option of receiving alerts throughout the day on stocks and funds they wish to keep up with. The SeekingAlpha app offers a free and a premium version.
Download for Android
Download for IOS
Investing.com
The Investing.com app provides straightforward information on stocks, finance, markets, and other important financial news. Though this app lacks some of the bells and whistles of other apps on the list, its simple nature makes it ideal for those looking purely for financial news. Also setting this app apart from many others on this list is the fact that it's free.
Download for Android
Download for IOS
Financial Times
Another choice for those looking for a straightforward news experience is the Financial Times app. This app allows users to read stories offline, receive breaking news alerts, save articles, follow certain topics they wish to stay informed of, and comment on articles. Like the Investing.com app, the Financial Times offers less of the tools of some other apps. The Financial Times app is best for those looking for an experience closer to reading a newspaper, but on their phone or tablet.
Download for Android
Download for IOS
Keeping up with the latest financial news is important, but it can also feel overwhelming. Thankfully, with the use of any of these apps, the process becomes far simpler.
Related Course: Investment Banking Certification
The Investment Banking Certificate (IBC) is a professional certification in four core disciplines in business and finance given by the New York Institute of Finance (NYIF). It is a blended, intensive 12-week program comprising digital distance learning and live courses that can be taken virtually anywhere around the world. IBC offers training for individuals who want to make a career transition to investment banking or who need to hone their finance and business management skill set. The skills developed or enhanced during the program are intended to produce competent individuals in the areas of general management, finance, financial statement analysis, and quantitative techniques with a specialization in financial markets and investment analysis.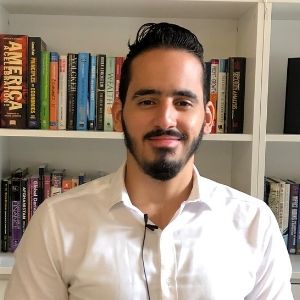 Gabriel
August 2019, Investment Banking Certification
"There's a lot of things you can learn about Finance in college, but there's a lot you can do on your own. It's a competitive environment, there are a lot of smart people so set yourself above from the competition by doing research and learning on your own."
About The New York Institute of Finance
 The New York Institute of Finance (NYIF) is a global leader in professional training for financial services and related industries. NYIF courses cover everything from investment banking, asset pricing, insurance and market structure to financial modeling, treasury operations, and accounting. The New York Institute of Finance has a faculty of industry leaders and offers a range of program delivery options, including self-study, online courses, and in-person classes. Founded by the New York Stock Exchange in 1922, NYIF has trained over 250,000 professionals online and in-class, in over 120 countries.
See all of NYIF's training and qualifications here.