Student Stories
Sivaraam Muthukumar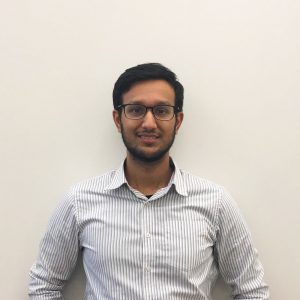 "When I applied for financial jobs they said I needed something more credible. A form of proof that I actually did take finance courses – university courses were not enough. I spoke to my father about possible solutions to either take a master's degree or find something online, and he mentioned that he took a course with NYIF many years ago. I took a look at nyif.com and found the CFRE™ program which was perfectly tailored to the quantitative side of finance that I was looking for. I decided to enroll and now have graduated a year later!"
– Sivaraam Muthukumar
January 2019, CFRE™ Designation
Meet Sivaraam Muthukumar from Hong Kong! He has a degree in mechanical engineering and business management. He became interested in opportunities to enhance his career in finance because of the difficulty he was having during interviews when asked about his education in finance.
After speaking to his father about his experience with NYIF, Sivaraam decided to look into courses on nyif.com. He chose the CFRE™ program because it was perfectly tailored to the quantitative side of finance that he needed.
Sivaraam explained that he learned two critical lessons from the CFRE™ program:
The first lesson was that a lot of the concepts that revolve around the financial industry can be broken down into one fundamental idea. To clarify, complex things broken down into a simple thing in which we can understand is going to be very useful in the industry, especially when trying to tackle more complicated theories.
Also, the practical side of the course in technical skills such as modeling and R will definitely be required in the financial world.
About the Chartered Financial Risk Engineer™ Program
The Chartered Financial Risk Engineer™ program is designed to develop the essential expertise that every financial risk manager or risk quant needs. Develop an interconnected mix of abilities and skills covering software coding, modeling design, financial securities analysis and risk management. You will develop a range of hands on skills and applicable frameworks taught by practitioners of the leading Financial Investment firms with decades of experience between them.
To learn more about the Chartered Financial Risk Engineer™ click here.
About New York Institute of Finance
The New York Institute of Finance (NYIF) is a global leader in professional training for financial services and related industries. NYIF courses cover everything from investment banking, asset pricing, insurance and market structure to financial modeling, treasury operations, and accounting. The New York Institute of Finance has a faculty of industry leaders and offers a range of program delivery options, including self-study, online courses, and in-person classes. Founded by the New York Stock Exchange in 1922, NYIF has trained over 250,000 professionals online and in class, in over 120 countries.
To learn more about the New York Institute of Finance, click here.
For more Student Stories, click here.