Student Stories
Doriana Dine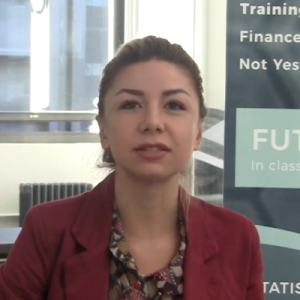 "The Fixed Income Professional Certificate was very valuable for me to deepen my knowledge in Fixed Income, especially because we invest a large part of our portfolios and reserves into Fixed Income instruments such as treasury bills or bonds from different corporations"
– Doriana Dine
October 2018, Fixed Income Professional Certificate
Doriana Dine currently works in Albania in the department of monetary operations and is responsible for investment strategy and analysis.
The Fixed Income course met her high expectations. The topics covered in the course were very detailed, and on point with what she needed. The lecture focused specifically on the evaluation of Fixed Income instruments, how it had developed over time, and its outlook for the future.
About Fixed Income Professional Certificate
Develop a complete set of desk-ready skills for fixed income market participants. You will learn how to determine fair values, yields and risk measures for a wide variety of instruments including government bonds, corporate bonds, mortgage securities and fixed income derivatives. Understand the structure and trading conventions of fixed income markets, and learn how to construct, interpret and trade the term structure of interest rates. The Bloomberg Professional terminal is used extensively throughout this program.
To learn more about the Fixed Income Professional Certificate click here.
About New York Institute of Finance
The New York Institute of Finance (NYIF) is a global leader in professional training for financial services and related industries. NYIF courses cover everything from investment banking, asset pricing, insurance and market structure to financial modeling, treasury operations, and accounting. The New York Institute of Finance has a faculty of industry leaders and offers a range of program delivery options, including self-study, online courses, and in-person classes. Founded by the New York Stock Exchange in 1922, NYIF has trained over 250,000 professionals online and in class, in over 120 countries.
To learn more about the New York Institute of Finance, click here.
For more Student Stories, click here.